A unique Healing Experience
Kimantra is a place of relaxation that features the world's most famous and beneficial spa therapies.
Desiring to introduce the healing art of massage, traditional treatments are adapted to a refreshingly unique perspective which makes Kimantra a world class spa
60 min, 60$ / 90 min, 90$ / 120 min, 120$
This medium to deep-pressure massage focuses on the energy lines and acupressure points.
60 min, 80$ / 90 min, 120$ / 120min, 160$
For this deep and powerful massage, the therapist uses Volcanic Hot Stones to concentrate on the energy lines, pressure points and muscles. The warmth penetrates deeply into the body creating an exceptional sense of comfort and balance.
60 min, 70$ / 30 min, 40$
Relfexology is a Chinese therapy based on the principal that all organs have their reflexes ending in the feet and that by massaging and stimulating respective points the whole body is treated and restored.
Holistic Balinese Journey
Three anti-aging and hydrating treatments are combined into a complete pampering experience. The journey starts with a full body aromatherapy scrub, exfoliating and invigorating the skin and follows with a nourishing mud body mask rich in minerals. The body is then wrapped in a heating blanket; the heat boost the penetration of mineral salt, improving cellular nutrition, oxygenation and immune system, promoting tissue repair and lymphatic drainage. For a satin finish, a one hour massage using essential oils allows the body as whole to restore and find its balance.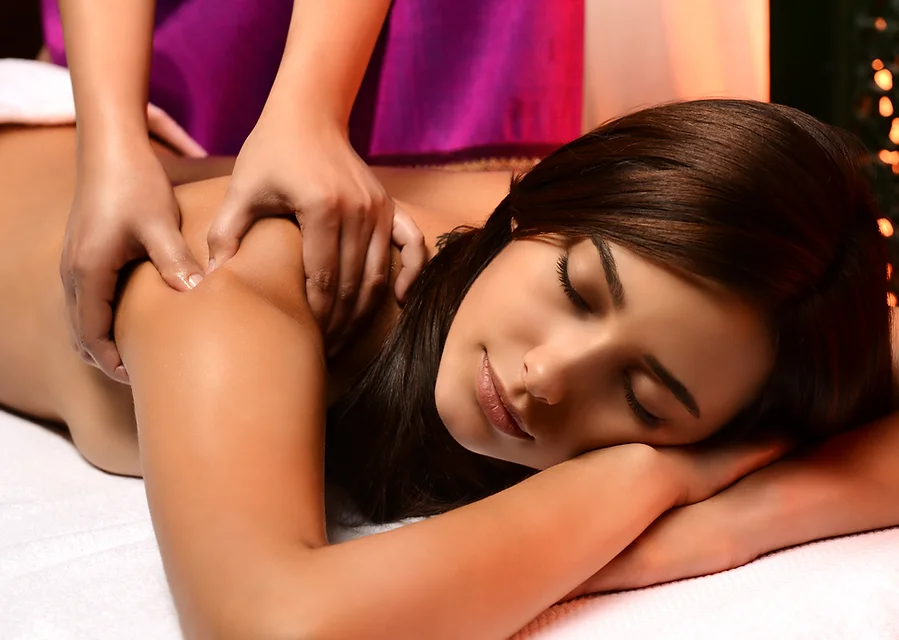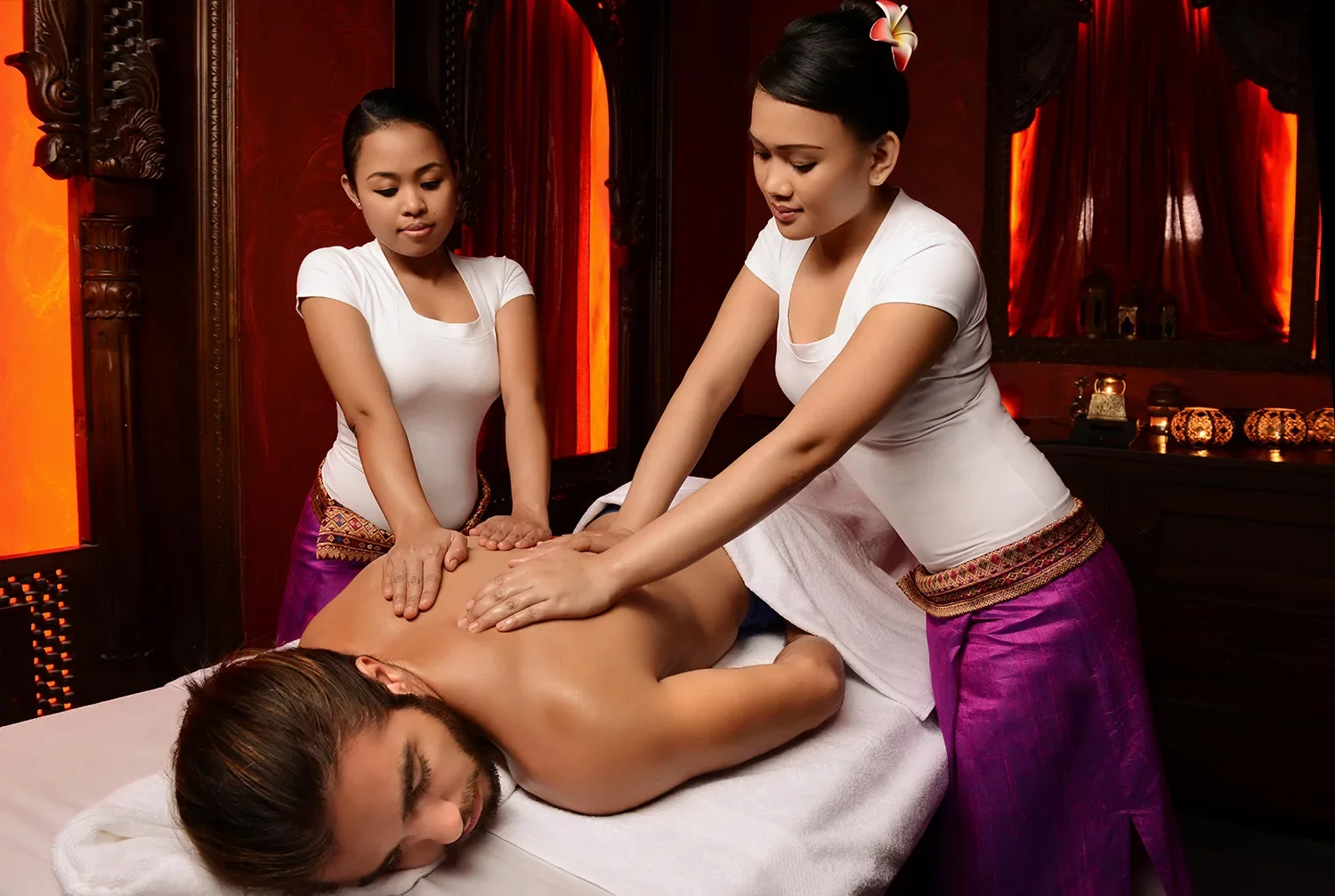 60 min, 70$ / 90 min, 105$ / 120min, 140$
This deep tissue aromatherapy massage combines stretching movements for posture improvement and balance.
60 min, 80$ / 30 min, 60$
Organic Coconut, Castor and Rosemary oils are applied and massaged into the head, face, neck and shoulders, nourishing the hair, normalizing sleep patterns, reducing stress, headaches and migraines.
A traditional synchronized full body massage given by two therapists using the oil that suits your needs the most. Combined with firm manoeuvres and stretches, this method speeds up the elimination of toxins inducing the body into a state of deep tranquility.
Kimantra fusion is our favourite treatment; it is a deep tissue Indian, Balinese and Hot Stones massage, and includes Reflexology, Cupping, Thai and Japanese therapies.
A traditional cleansing ritual, starting with a steam bath, followed by a body cleansing using natural soap and a vigorous body scrub using a special glove to deeply exfoliate the skin and remove dead skin cells. The new skin is then enveloped with a nourishing mud mask followed by herbal oils for a healthier skin.
When you're pregnant, a massage from three months onwards, can lift your mood and make you feel so much better. This treatment includes a relaxing back, shoulders, neck, scalp and face massage. To complete, long strokes on the lower legs, arms, hands and feet restores a feeling of lightness and comfort.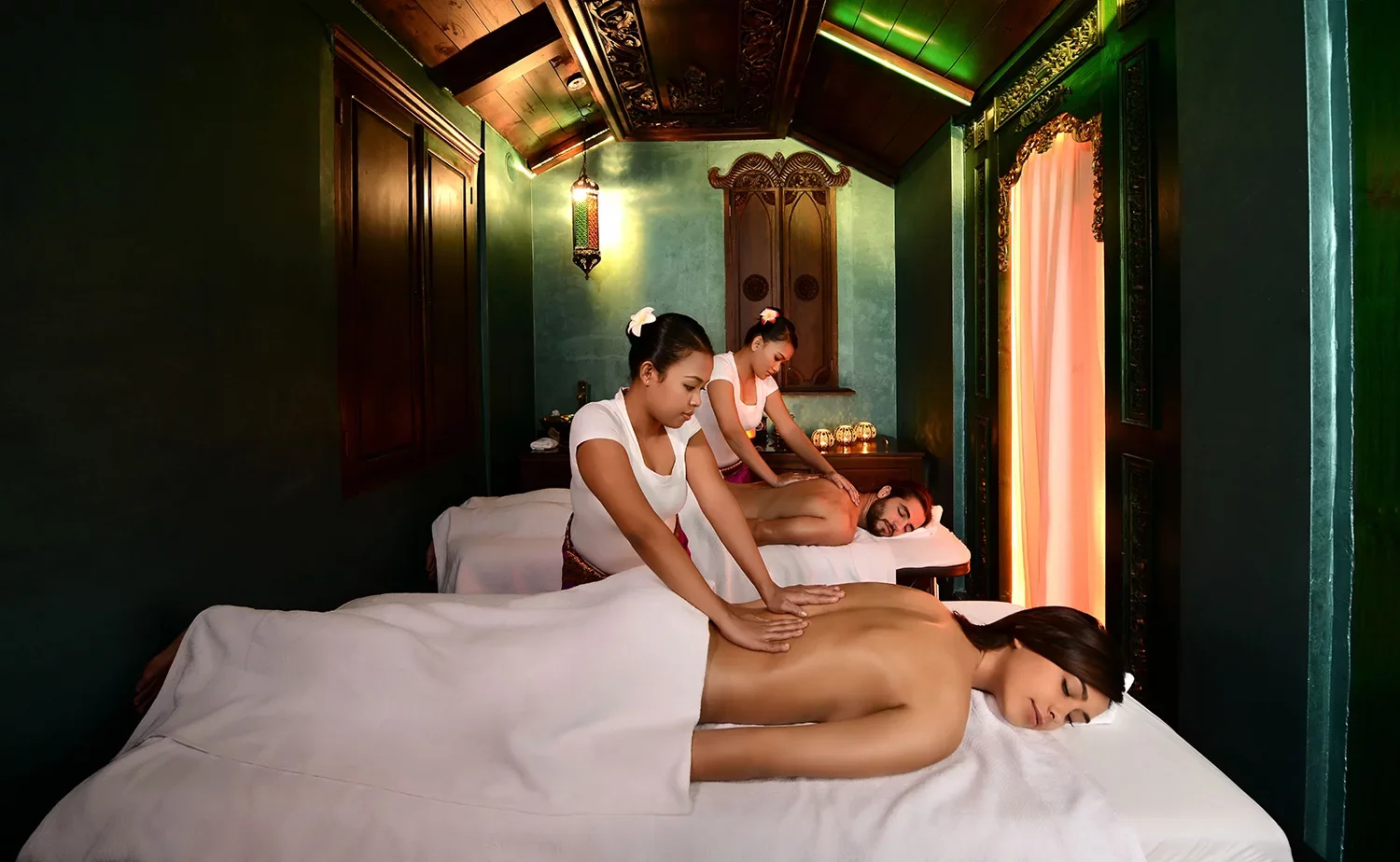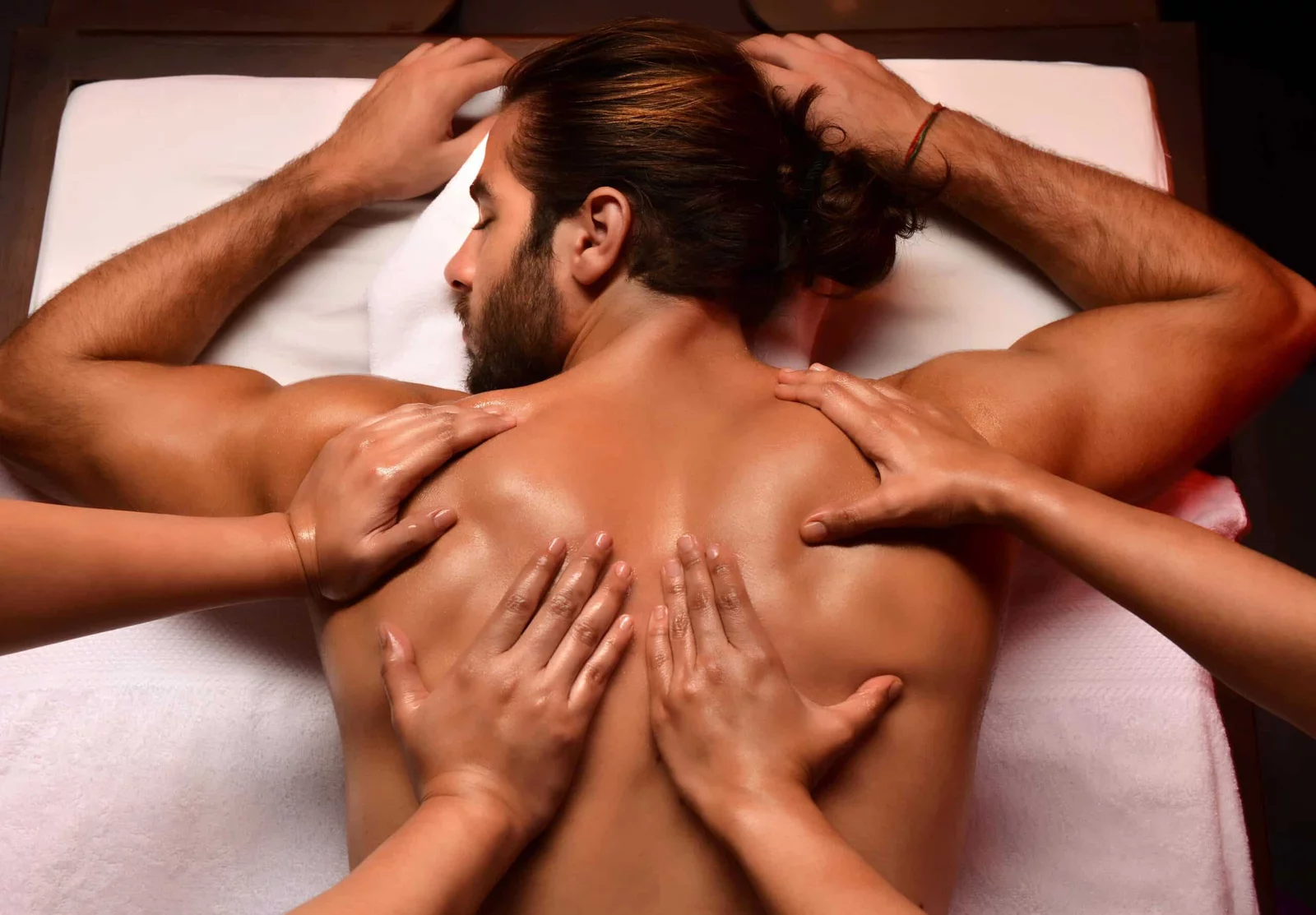 Incomparable to any other slimming treatment, maderotherapy breaks down cellulite, provides a vigorous lymphatic drainage and stimulates the elastin and collagen of your body
Who thought getting wrapped like a mummy could be and feel so good? This 60 minutes' session consists of lying in a heated blanket after being covered in clay, rich in minerals and salts, tightened and compressed with bandages. Beside reducing excess water, cellulite and stretch marks, heat and compression relax and soothe the muscles, improve tender joints, decreasing inflammation and chronic arthritis pains.
60 min, 70$/90 min, 105$/120min, 140$
Thai massage combines gentle rocking, rhythmic compressions on targeted pressure points followed by assisted stretching.
This Japanese dry bodywork uses localised finger and elbow pressure in a rhythmic sequence on acupuncture meridians.
This treatment uses both Shiatsu and Thai massage techniques on the whole body with deep tissue Swedish massage to the back neck and shoulders and stretching movements.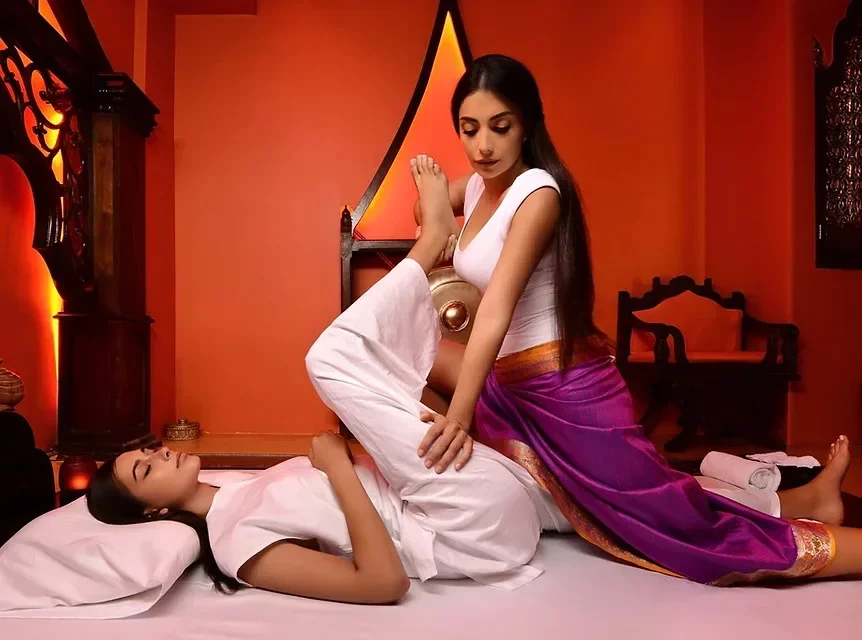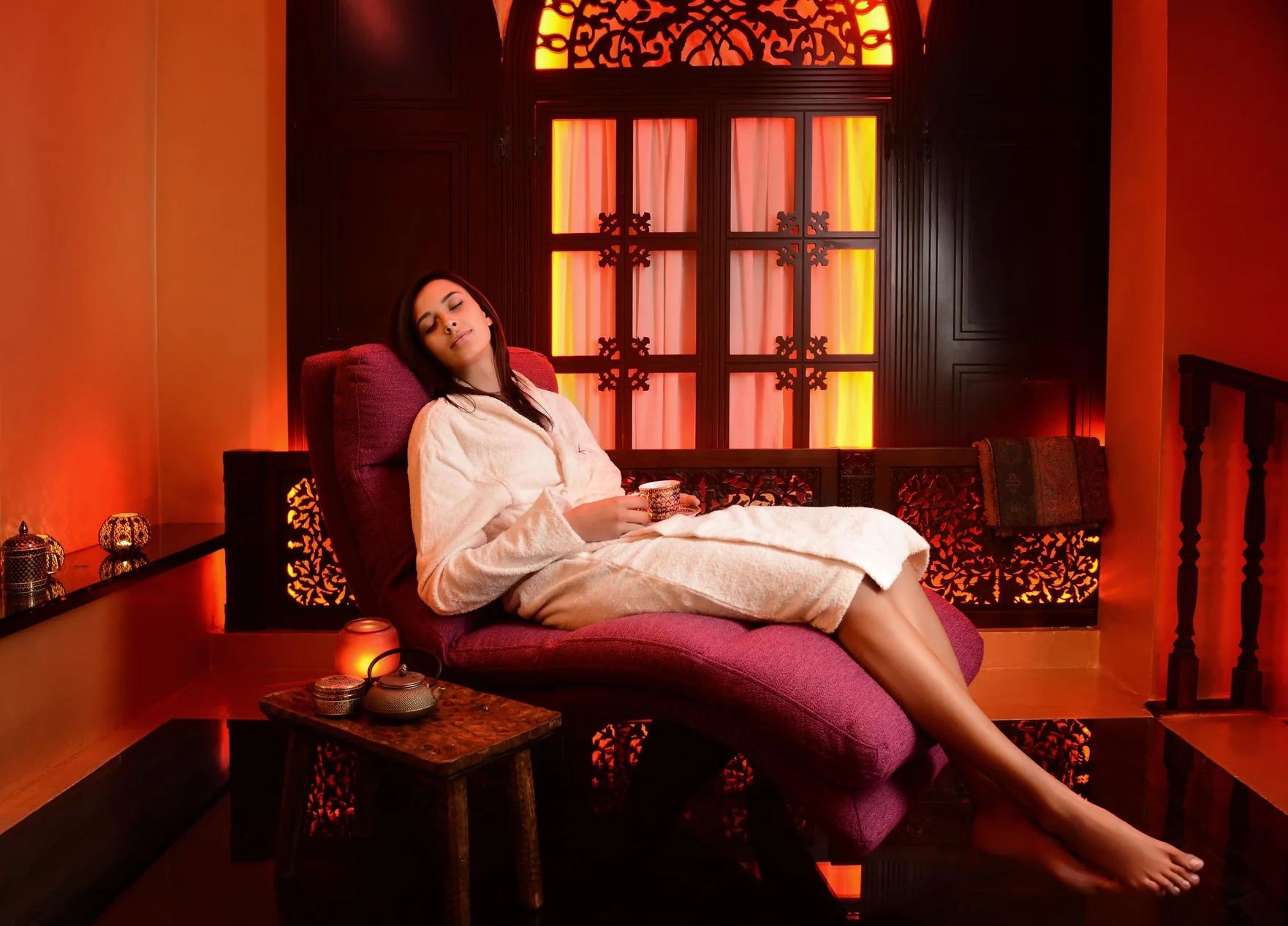 This facial begins with a gentle exfoliation. A hydrating organic cream is then applied for a facial massage to stimulate face muscles, bringing oxygen and blood flow to that area. A Radiance Mask is then applied and followed by a head and foot massage.
Radiance Collagen Booster
This is an anti-aging skin care during which the skin is prepared with a gentle scrub and mask. A collagen serum is then used for a face massage. A full rejuvenation treatment which increases collagen natural production and elasticity.
A revitalizing scrub is applied to remove dead skin cells followed by a steaming and cleaning of clogged pores, then by a facial, neck and décolleté massage. A cool face mask is applied to correct oily skin texture. This treatment will purify, moisturize the skin and reduce enlarged pores.
Available as a supplement to other treatments
Detoxifying scrub 30 mn, 65$
Our unique scrub is rich in minerals and aromatherapy oils; it exfoliates dead skin cells and allows the regeneration of new ones thus promoting a smoother, more hydrated and healthier skin.
A mix of mud and clay rich in minerals is applied to the body which is then airtight wrapped and covered with a heating blanket.
While you enjoy a head and face massage your body is healing, releasing toxins, reducing cellulite and improving circulation.
Facial radiance peel & mask 20mn, 35$
Our mini facial starts with a massage to bring oxygen and blood flow to the face, follows with a gentle exfoliation and ends with a nourishing moisturising mask.
30 min Nourishing hair mask 50$
Relaxation at its finest: Read what our clients have to say about their spa massage experience
211 reviews on
مرحبا اشكرك جزيل الشكر لقد تحسنت صحة جسدي بفضل احد الخبراء منكم انا العب كرة القدم لقد ظهرت عندي تصلب العضلات الركبه والظهر ولكن الأسعار باهظة الثمن هل يوجد لديكم تخفيضات في ايام معينة ………
Tinajohn Tinajohn
24/10/2023
I had a four hands massage it was mind blowing I can never have regular massages anymore! It was total surrender! I guess I totally shut my mind off surely new amazing experience. Surely recommend.
You won't know what a good the massage is until you try it here
It was excellent, the beautiful deep pressure just like I asked. It is reasonably priced, and the staff are friendly and very professional
I had a voucher for a couple's massage at Kimantra spa which had passed its expiry date, but the staff were very kind and let me book anyway! It was excellent, the perfect amount of pressure to release muscle tension and I left feeling completely refreshed. I will definitely go back and will recommend it to friends. It is reasonably priced, and the staff are friendly and very professional.
Clean place, nice service, best massage.
The best experience ever, professional staff and relaxing massage.
My husband and I had the most real massage experience. It was better than we had in the far east. It was funny at the beginning they asked for our marriage papers but we understand now it's such a high standard of everything. It was recommended by a close friend and we will surely recommend this as the best spa in lebanon.
A very peaceful and professional spa, soon as you walk in you feel already the relaxing mood, the staff very professional and the rooms are very clean. It's my place to enjoy and relax after a day of work